Det er lang tid siden (hvis det nogensinde er sket), at en bog har givet mig så dårlig en smag i munden. Det er ikke selve Tonys bog fordi den er fantastisk, men nogle at de informationer som Tony afslører, at der gør mig syg!
Det er informationer om, hvordan Banker og Finans firmaer tager røven på deres kunder. Det gør de ved at få almindelige mennesker, som du og jeg, til at investere i forskellige produkter. Det kan være pensionsopsparinger, aktier, obligationer og fonde. De markedsføre disse produkter på en måde, så vi tror at det er de bedste produkter i verden. De er sådan set de bedste produkter i verden og en kæmpe penge maskine, men det er bare ikke for os kunder.
Disse investerings- og opsparingsprodukter er en kæmpe penge-maskine fordi der er store og mange skjulte gebyrer. Derudover er produkterne så komplekse og svære at gennemskue, for kunder som du og jeg. Derfor betaler mange alt for meget for disse produkter, og derved får de en meget mindre gevinst ud at deres investering.
Her er en fantastisk video, hvor Marie Forleo har en snak med Tony Robbins, om hans nye bog: Money Master The Game: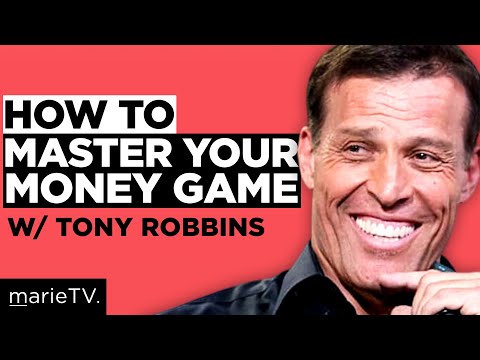 Det er 4 år siden at Tony så filmen "Inside Job", som handler om hvorfor finanskrisen i 2008 overhovedet skete. Han blev både sur og ked af det, fordi i filmen vil du lære om, hvorfor så mange almindelige mennesker mistede delvis eller hele deres opsparing. Mange almindelige mennesker mistede deres hus og hjem. Men mange finans firmaer og deres topledelses havde allerede tjent kassen på, at narre kunderne til at investere i produkter med alt for høj risiko og gebyrer.
Derfor har Tony brugt de sidste 4 år på at skrive bogen Money Master The Game, for at undervise og lære almindelige investorer, som du og jeg, i spillet på finansmarkedet. Det er et spil og der er mange regler, som du skal vide, så du bedre kan få succes med at investere dine penge. Der er meget at lære, men med Tonys bog er det bestemt muligt for du og jeg, at vi kan lære spillet.
Jeg har lært rigtig meget ved at læse bogen, og jeg vil bestemt anbefale dig at læse den. Måske har du ikke lyst til selv at skulle investere dine penge. Men bogen vil give dig viden og indsigt, som du kan bruge til at stille nogle meget bedre spørgsmål til din bankrådgiver. Derved kan du sikker at du faktisk har nogle investeringer og opsparinger, som giver dig det bedst mulige afkast.
Der er utroligt mange penge for dig at tjene ved, at du har de rigtige investeringer og opsparinger. Der er desværre rigtig mange sager, som beviser at du ikke altid kan stole på din bankrådgiver. Derfor skal du lære spillet om at investere dine penge rigtigt, så du sikre din økonomiske fremtid bedst muligt.
Læs Tony Robbins bog Money Master The Game, og du vil vide meget mere om, hvordan du skal investere dine penge. Held og lykke med at blive en Master til "The Game of Money!
Hvem er Thomas Justesen
Jeg hedder Thomas, og jeg blogger her på hjemmesiden. Det er efterhånden flere år siden, at jeg begyndte at blogge, og er helt vild med det! Jeg elsker at have det sjovt og grine, så jeg skriver en del sjove og lidt skøre indlæg 🙂 Jeg har også en kæmpe passion for personlig udvikling, online markedsføring og at skabe succesfuld online forretning. Jeg dyrker meget motion og prøver at spise sundt, så det blogger jeg også lidt om. Det er spændende at blogge, og der er mange muligheder med det. Vil du gerne tjene penge online? så skal du se denne video nu, klik her!